英语热词:胸中怒火难耐,你是办公室易怒族吗?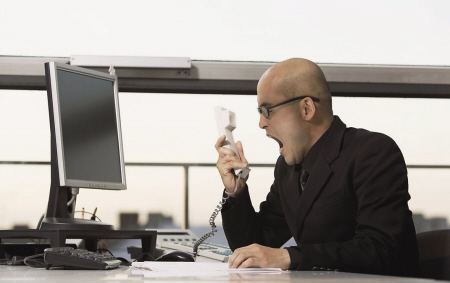 快下班了老板通知开会,打印机又卡纸了,跟同事怎么也沟通不清楚……胸中怒火难耐,不小心就会在办公室发飙。你也是办公室易怒族吗?
  The people you work with are driving you nuts and you'd love nothing more than to scream at them at the top of your lungs.
  同事简直要把你逼疯,而你想做的不过是冲他们发火。
  Sure, you'd feel so much better venting your rage, but overt anger remains a taboo at the office. In some cases, it could get you fired. Most of us instead keep a tight lid on our fury.
  发泄愤怒当然让你感觉更好,但公开发火仍然是办公室禁忌。有时候这还会导致你被解雇。因此大多数人会压抑自己的愤怒。
  Still, "office rage" is real and a growing concern, according to experts.
  但专家表示,办公室易怒仍然是个现实的问题,越来越引发人们的担忧。
  Eighty-three percent of us have seen a colleague lose their temper at work and 63% of us have lost our temper, according to a study.
  调查发现,83%的人见过同事在办公室发火,63%的人自己就曾在工作中发火。
  Among the worst office irritants: computer crashes, uncooperative printers, annoying, lazy colleagues and inconsiderate bosses. And women are more likely to snap than men.
  造成办公室易怒症的原因主要是:电脑宕机、打印机出毛病、讨厌且懒惰的同事、以及不顾别人感受的老板。女性在办公室比男性更加易怒。
  Unsurprisingly, receiving after-hours work emails had a similar effect according to a 2015 study.
  2015年的一项调查显示,在下班时间收到工作邮件也很让人恼火,这一点儿也不让人惊讶。
Author:    Source:qq.com    Editor:Yang Fan