Full Truck Alliance, a leading enterprise in the logistics industry in China, recently released a list of cities owning the largest coffee markets in the country.
Its data showed the transport volume of coffee in 2022 saw two peaks in October and December of the year, increasing by more than 30 percent in December over the previous month. As office workers resumed work, the transport volume of coffee recovered fast.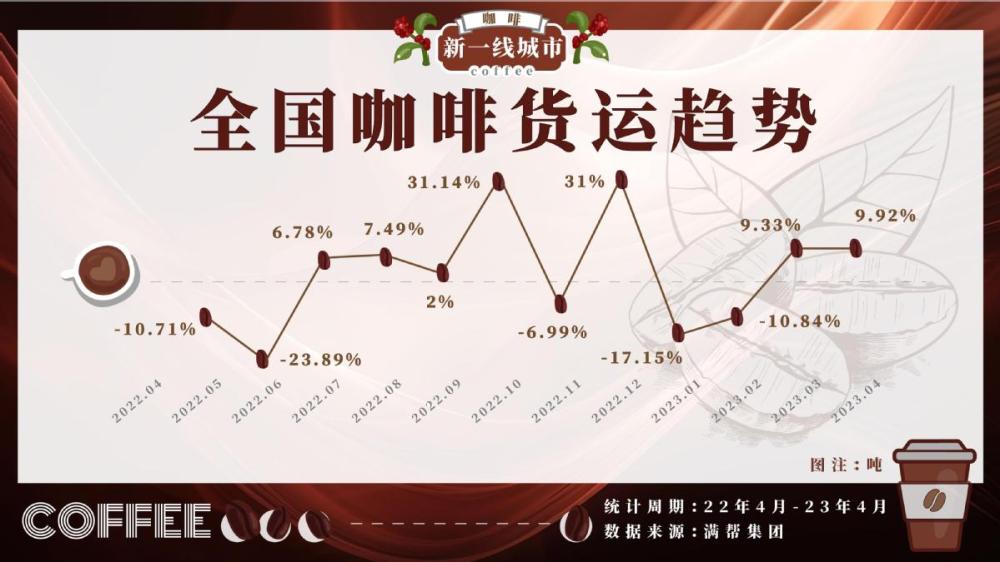 Transport volume of coffee from April 2022 to April 2023. (Soure: Full Truck Alliance)
Suzhou city in east China's Jiangsu Province received nearly 90,000 tonnes of coffee in the past year, more than other cities. That's because many renowned coffee brands have roasting bases in the city, and many new consumption scenarios such as "coffeehouses plus Kunqu opera" and "coffeehouses plus bookstores" have emerged there. Incomplete statistics indicated that there are more than 1,600 coffeehouses in Suzhou and over 10,000 people are involved in the coffee business and related businesses.
Kunming city in southwest China's Yunnan Province, which ranks second, has become a transit center for the export of coffee beans produced in Yunnan. Chengdu city in southwest China's Sichuan Province and Guangzhou city in south China's Guangdong Province are also on the list for their thriving coffee consumption.
New first-tier cities in coffee industry. (Soure: Full Truck Alliance)
Second- and third-tier cities see rapid growth in coffee consumption.
Statistics indicated that between 2021 and 2022, the number of coffeehouses in third-tier cities grew by 19 percent, faster than other cities. Full Truck Alliance found that Zhengzhou city in central China's Henan Province, Foshan city in Guangdong Province, Leshan city in Sichuan Province and other cities are among the 10 cities that saw significant increases in the amount of coffee they received.
The Pu'er-Kunming route is a popular path for the export of coffee produced in Pu'er city, Yunnan Province. East China, including Shandong Province, is an area where many coffee processing enterprises are located.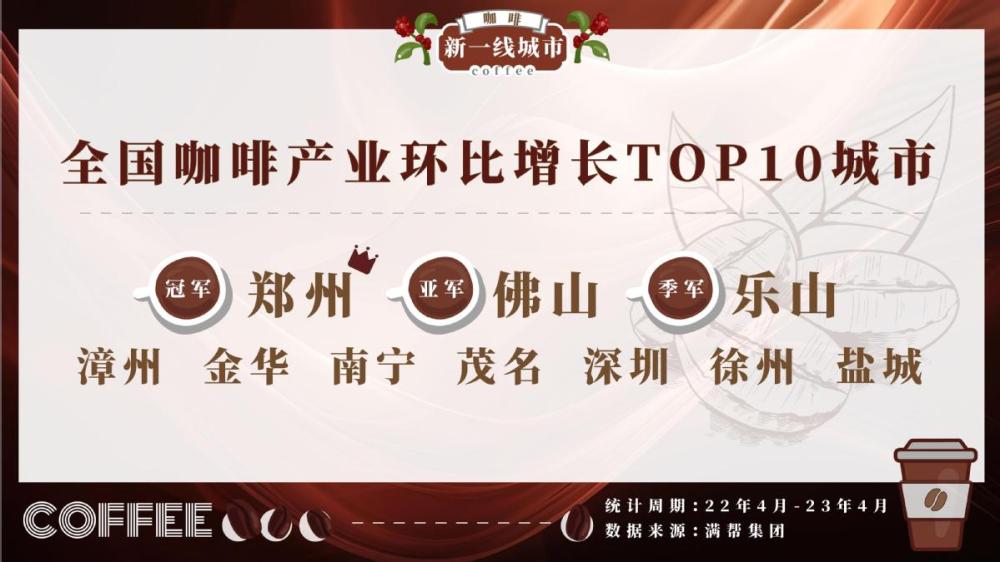 The 10 cities that saw biggest increase in the coffee industry from April 2022 to April 2023. (Soure: Full Truck Alliance)
Yunnan is a major producer of Arabica coffee beans. Statistics from Full Truck Alliance indicated that orders for Pu'er coffee that involved the longest transport distance, which was more than 7,000 kilometers, were placed by customers in Kunyu city in northwest China's Xinjiang Uygur Autonomous Region.