双语:史上最萌警员!新西兰警察雇了一只豚鼠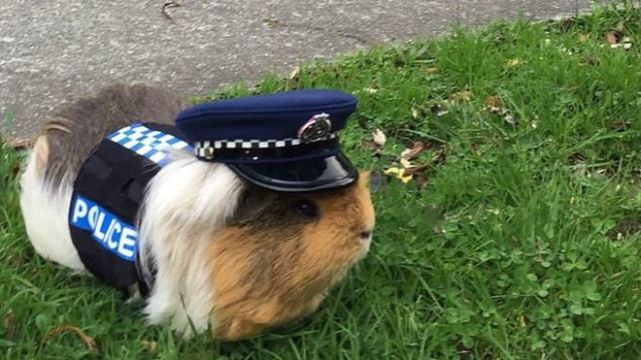 Police in New Zealand have a new rodent recruit to help spread their safety messages - Elliot the guinea pig!
  新西兰的警察新雇佣了一只啮齿动物去联手张扬正义——它就是豚鼠Elliot!
  The pet animal's been a hit since appearing on New Zealand Police's social media, posing in his own mini police cap.
  新西兰警方还在社交网站上晒出了这只宠物鼠的照片,它还带着自己的迷你警帽。从此它就成为了网红!
  The latest post features Elliot on the roadside, calling on people to drive safely.
  在最新晒出的照片上,Elliot站在马路旁边,呼吁人们注意安全驾驶。
  The four-year-old guinea pig is the pet of someone in the police media team.
  这只4岁大的豚鼠是警局宣传部门一位警员的宠物。
  New Zealand Police said: "[We] are always looking at new ways to communicate with the public and promote messaging as quickly and as efficiently as possible."
  新西兰警局的社交媒体上写着,:"我们正在寻找与公众沟通的方式,希望能尽可能迅速、高效的宣传信息。"
  It said Elliot spends a lot of his spare time grazing on grass, green vegetables and hay at home, and getting cuddles from his family.
  据称Elliot在工作之余喜欢花一整天的时间宅在家里,和家人抱抱,或者盯着嫩草、青菜和干草发呆。
Author:    Source:qq.com    Editor:Yang Fan