World's Most Expensive Toilet Made of 24 Karat Gold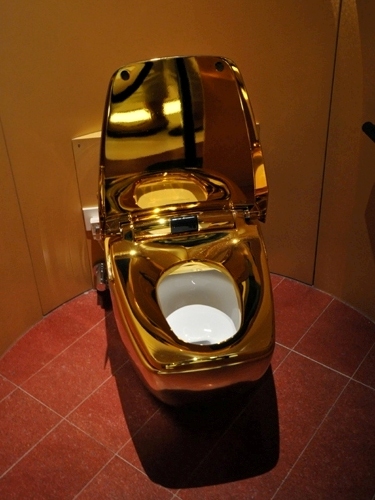 World's most expensive toilet made of 24 Karat Gold
The Japanese love playing with words, and if you ask a Japanese what the 3Ks are in Japan they will tell you it stands for the words Kitanai (dirty), Kitsui (demeaning) and Kiken (dangerous). The 3Ks commonly refer to work that Japanese do not want to do.
But for Shanghai World Expo, Japan has come up with another 3Ks. This time the 3Ks are Kirei (pretty), Kawai (cute) and Kimochiii (sensibility) - and these buzzwords that sum up the spirit of modern-day Japan are part of the theme of "Better Life from Japan" that is being presented by one of the nation's three pavilions present at the 2010 exposition.
Japan Industrial Pavilion
The Japan Industry Pavilion, like the Osaka Pavilion, is situated in the Best Urban Practices area of the Expo Park, and it is well worth a visit.
Around the pavilion you will find food shops selling mainly Osaka specialties, such as tako-yaki (fried octopus balls), yaki-soba (friend noodles) and okonomiyaki (savoury pancake). There is even a large red squid decoration above one of the food stalls, somewhat reminiscent of the large red squid that can be seen on the Dotonbori in the heart of Japan's second city. The Dotonbori is renowned for its gastronomical pleasures, especially for those on a tight budget.
Certainly, if you are feeling particularly flushed you may want to try Murasaki, an exclusive restaurant at the Japan Industry Pavilion, where for 3,000 RMB per person you can enjoy a seasonal menu of kaiseki-ryori (traditional Japanese haute-cuisine). Chefs have been especially flown in from the renowned Kyoto restaurants Kikunoi, Tankuma Kitamise and Uosaburo to prepare the finest of meals. The restaurant has five dining rooms, all private, and the large windows offer beautiful views of a spacious neo-Zen garden. The pond sparkles with light filtering in through a bamboo hedge. Dinner here is likely to be an experience that you won't forget.
One of the most talked about items on display within the pavilion itself is in fact a toilet. Japan makes the most sophisticated toilets in the world - intelligent loos that self flush, self clean, play music or the sounds of tweeting birds. They even have seats that will warm your bottie for you, which is an absolute delight in wintertime. But the "World's Top Lavatory" is not simply the world's most sanitized facility, equipped with cutting-edge technology and design, it also displays the world's most expensive toilet. This is a loo that I previously had the pleasure of viewing in 2002 at Charm Station: World's Toilet Museum, in Utazu, Kagawa Prefecture, on the Japanese island of Shikoku.
At that time the solid gold 24-karat loo was worth some sixty million Japanese yen (approximately 4,500,000 RMB in 2002). But with gold having appreciated considerably in recent years I dare not think how much the loo must be worth today. Unfortunately, visitors are not allowed to sit on this loo, let alone "spend a penny." Another delight at the pavilion is the Future Post Office.
Future post office
"Future post offices will be venues to connect the world and eradicate discrepancies between regions through supporting medical, administrative, educational and life services. You will have vending machines where you can purchase any product or service you desire, including your favourite car, a house, trip to space or a weekend out to a hot spring, " says Tomoe Kamikubo, a representative at the pavilion.
Another highlight is the themed theatre Utage, which has walls made from recycled paper. Here, you can enjoy a 3-D film that takes you on a journey through 21st-century Japan, showing scenes from north to south, expressing the country's four distinct seasons, it's culinary delights, its colourful festivals, and its unique arts and crafts. You experience everything from schoolgirl chic in Tokyo's downtown Shibuya to the Naked Festival of Saidai-ji Temple in Okayama, as well as the spectacle of sumo, tea ceremony and geisha.
In another 3-D cinema, you experience a film about the evolution of medicine, and see viruses entering the human body and how advanced technology is being used to cure illness.
"The Road to Creation" is a washi (traditional Japanese paper) artwork showing the sun on a golden scroll. Created by Eriko Horiki, the artwork is an animation of sorts that presents a pictorial story of life, depicting the birth of mankind, its evolution, plants and animals and sends out a message that all things in the universe are interconnected.
There are other delights too, including robots, to be enjoyed at the Japan Industrial Pavilion. And, before heading off to any other pavilions, don't forget to check out the omiyage (souvenir) store. You are bound to find something that's Kirei, Kawaii and Kimochiii.
Author锛? 銆€銆€銆€Source锛? CRI 銆€銆€銆€ Editor锛? Wu Qiong